Mon, December 9, 2019 12:00 PM – 1:00 PM, Meeting rooms G.02, MBIE Head Office, 15 Stout St, Wellington
Have you ever tried to use data from somewhere else, but couldn't because the format was different? Have you whiled away hours of your life cleaning the data from X so that it fits with the data from Y? And it's time to settle that acrimonious debate once and for all - should time zone be included in a standard for date of birth, yes or no?!
The difficulties of standardisation are well understood...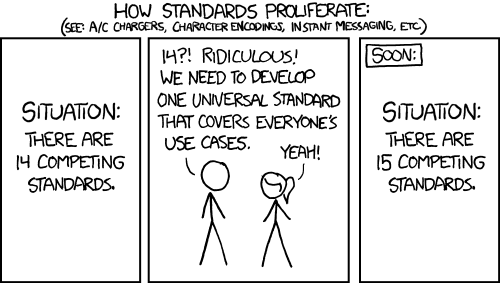 [comic from xkcd: https://xkcd.com/927/]
...but difficult isn't the same as impossible!
So come along and hear about Stats NZ's work to develop data content standards for the government by co-designing with a range of other agencies. Natalie Mawson (Senior Advisor – Data and Statistical Standards) and Ashleigh Maw (Manager – Data and Statistical Standards) from Stats NZ will speak about the journey so far, and Liana Bunting (Senior Advisor Data and Standards at MBIE) will talk about MBIE's experience as one of the collaborating agencies.
Who should attend? Anyone with an interest in data sharing, standards development, or the basics of good cross-government collaboration.
Since this is the final GOVIS lunchtime forum for 2019 we also have some exciting news for 2020 - so make sure you stick around right up until 1pm!
Please note two changes to our usual event process. First, due to current security concerns, only people who have registered will be allowed into the building. Second, we will not be providing a full lunch - only some light refreshments. We will do our best to cater to a range of dietary requirements.
People who work for GOVIS member agencies will be given priority for places.